Now that we are into the third week of November and Thanksgiving is right around the corner, winter weather (or what passes for it in northern Alabama) is beginning to settle in. Not only does this mean an increase in colds and flu; it also increases the likelihood that you will experience a nosebleed. Knowing what to and what not to do (hint: don't panic!) will help you handle nosebleeds like a pro.
Who's Likely to Get a Nosebleed in Huntsville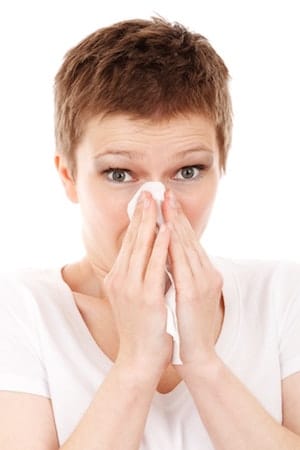 Most people in Huntsville and Madison will experience at least one nosebleed at some point in their lives. They can be scary, especially if you aren't used to them, but it's important to note that nosebleeds are quite common and usually harmless. They can happen throughout the year but are most likely to occur in winter, thanks to the combination of cold air and lower humidity. If it's cold outside, your nose may experience dryness and irritation; the heat from forced air and fireplaces that you experience when coming inside can make things worse. Other things that can cause your nose to bleed include trauma, infection, allergies, high blood pressure and inserting objects into the nasal cavity.
Those most likely to experience winter nosebleeds are older folks whose mucous membranes function less efficiently with age. Dry air in the wintertime causes the blood vessels in the nose to become thin and prone to breakage. Patients who are taking blood-thinning medications and post-menopausal women have an even higher risk. Most nosebleeds are nothing to worry about, but if you experience them frequently it's a good idea to let your doctor know so other conditions such as hypertension or tumors can be ruled out.
Treating & Preventing Nosebleeds
The first thing to do when your nose starts bleeding is to remain calm. Sit down, tilt your head forward (not backward, as some people suggest; that can cause blood to flow down the back of your throat, causing irritation) and pinch your nostrils together with your thumb and forefinger. Do this until the bleeding stops, a process that usually takes between 5-10 minutes. Do not blow your nose for at least 15 minutes after the bleeding has stopped. You can try applying ice; the cold causes blood vessels to constrict, slowing blood flow. You might also dab a little petroleum jelly onto a cotton ball and place that in your nostrils. If you have performed these steps but your nose continues to bleed, see an ear, nose and throat doctor in Huntsville. Your bleeding vessel may need to be cauterized to stop blood flow.
You can reduce your risks of experiencing a nosebleed by using a humidifier to keep the air inside your home moist; this can be especially helpful at night, when you're sleeping. Moisten your nasal linings a couple of times a day when it's extremely dry by placing a little petroleum jelly on either side of your septum. Over-the-counter saline sprays, gels and ointments will also help do the trick.
For more information on nosebleeds, call or schedule an appointment with an ENT doctor in Huntsville or Madison.