Approximately 14.9% of children ages six to 19 have low- or high-frequency hearing loss of at least 16 decibels. One of the best options for treating that loss is with hearing aids. Unfortunately, as any parent knows, getting your child to try something new can be challenging, even if it helps them.
To avoid an eat-your-brussels-sprouts-style fiasco, check out our tips to help your child acclimate to their new life with hearing aids.
Encourage Your Child to Get Involved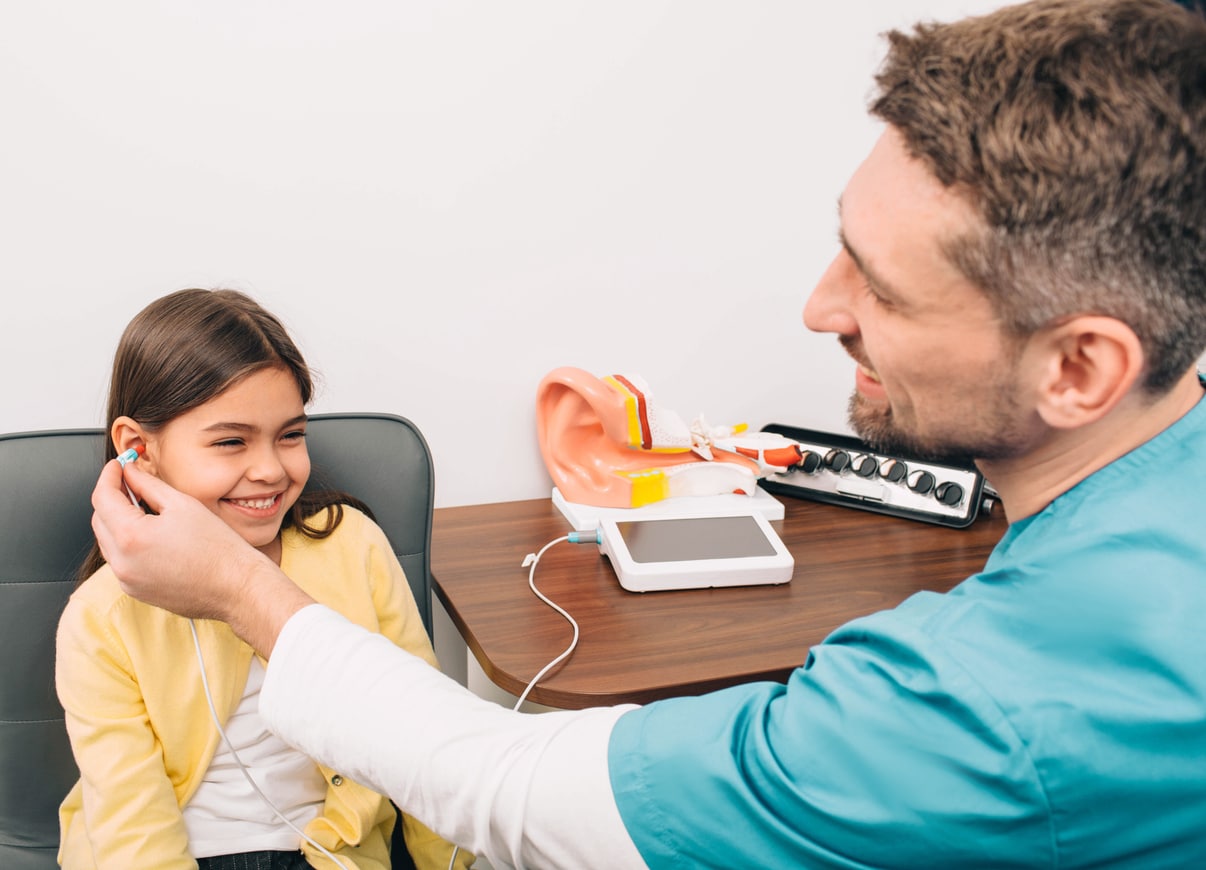 One factor in getting hearing aids that may upset your child is their lack of choice. Allowing your child to participate in the hearing aid selection process will give them a sense of ownership and control over their hearing treatment journey.
Discuss the Benefits
Hearing aids can take some time to get used to. Your child may find the devices uncomfortable or annoying at first. They may even refuse to wear them. If this is the case, try sitting them down to discuss the benefits of wearing their devices. A few key points to discuss include:
Hearing aids help communication. By amplifying speech sounds and reducing irrelevant background noise, hearing aids will help your child have an easier time hanging out with friends at Maple Hill Park, attending school and even watching television.
Hearing aids help prevent frustration. With hearing loss, social situations can feel overwhelming and frustrating. Hearing aids can relieve some of the mental effort it takes to engage with others in conversation, leaving more energy for enjoying time with friends.
Set a Routine
A daily hearing aid routine will give your child a sense of normalcy while they adapt to the change. You can tailor your child's specific routine to their needs, but some good practices may include:
Put your hearing aids in when you wake up
Take your hearing aids out before a bath or shower
Place your hearing aids in their protective case before bed
Clean your hearing aids once a week
By following a couple of these helpful tips, you can help your child adjust to their new devices. Above all, remember that hearing aids can be hard to acclimate to, even for adults, so remember to practice patience.
For more information on seeking hearing loss treatment, contact North Alabama ENT Associates today to make an appointment with one of our specialists.